This article is only a portion of the information provided by Extreme Terrain. Visit Here to see all the helpfull information about Tires and your Jeep. No matter the configuration.
There's no doubt about it; off-road driving is an absolute necessity for any outdoor enthusiast. You can't get into those secret fishing holes or that prime spot for ultimate wind-surfing without knowing which trails lead you there. When looking for these spots, remember to stay on the beaten path and only travel in areas open to four-wheel drive vehicles. If you've just purchased a Jeep and your head is full of off-road dreams, you're also probably wondering if the tires on your Jeep are the best ones for your plans.
What's the Purpose of Your Wrangler?
The tires you use are one of the most significant aspects of your Jeep's performance. It can make the difference between a rock climbing monster and what you perceive to be a gutless wonder. Those Jeep engines are die-hards you'll have to beat to death with a two-by-four. If your Jeep isn't pushing up the three-hundred-foot climb over Suicide Hill, chances are you don't have the right tires.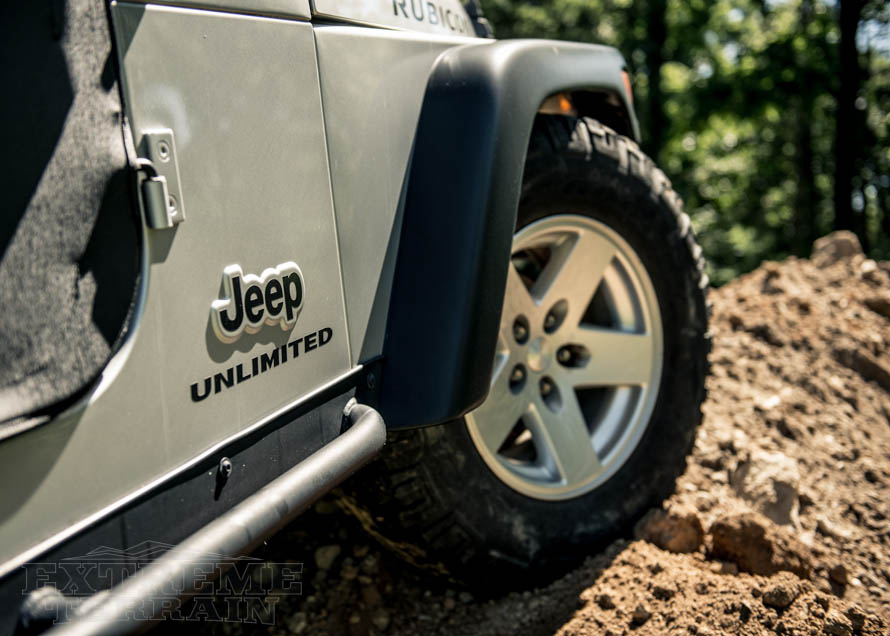 With all the options to choose from, the task of choosing the right tires for your Jeep can seem overwhelming, but there are really some rather simple rules to play by that all relate to the number one big question—exactly how do you plan to use your Jeep? Knowing how you're going to use your Jeep will assist you in choosing the correct tires which is not only good for you and the upkeep of your Jeep, but for the trails you travel and your vehicle's efficiency. Selecting tires geared towards the trails you most frequently travel will provide grip and traction without tearing up the trail to the point of unsatisfactory conditions.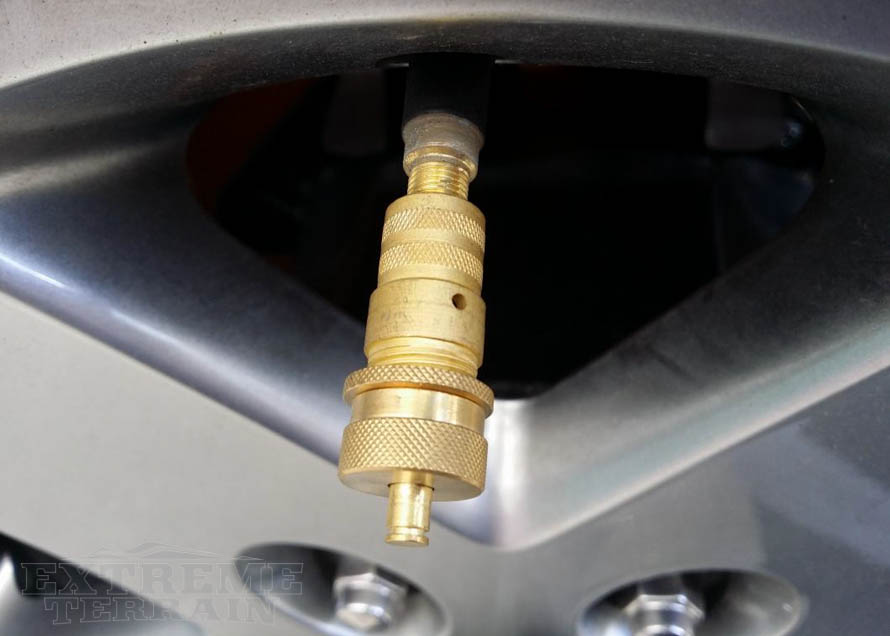 What's Airing Down & Why It's Important
A common subject for a lot of the off-roading situations presented below is called airing down. This involves adjusting your air pressure to the terrain you're tackling. It can make a huge difference when done correctly. Lowering your tire pressure allows your tire of choice to flex more, meaning better grip on slipperier surfaces. This is especially true when you're rolling with tires with meaty side lugs. Be sure not to lower your air pressure too much, and to have a way to reinflate your tires before you hit the blacktop again.
When driving on pavement air up tires to manufacturer spec
Low tire pressure when driving on paved roads will cause your tires to wear faster
Too high tire pressure can also cause your tires to wear faster
When airing down, do not lower your tire pressure too much.,You may damage your tire or pop the bead out
If you plan to run low tire pressure often, beadlocks can help prevent it from popping the bead out
Don't drive too fast with aired down tires
Air tires back up before returning to pavement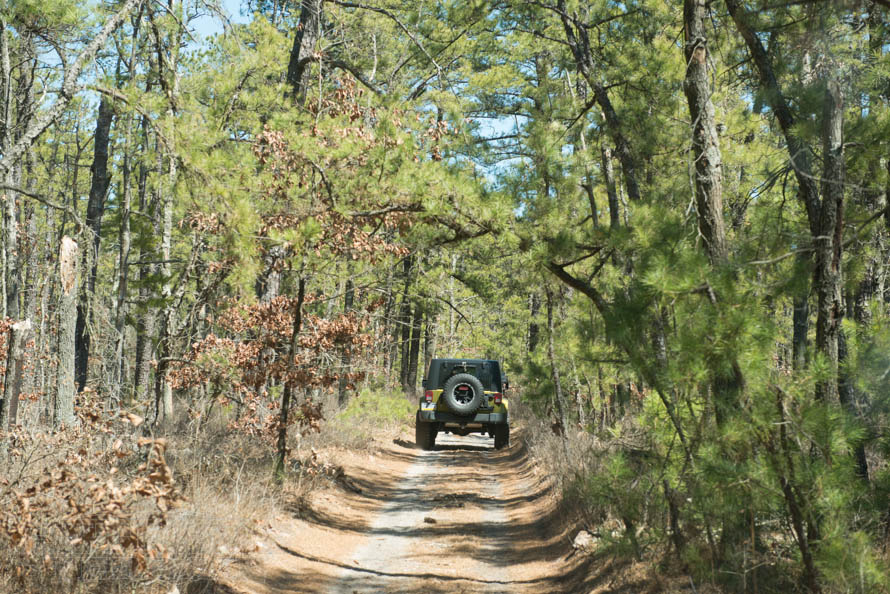 Best Tires for the Daily Driven Jeep
You'll need studs, chains, or good all-season tires to navigate off-road, but you also want a tire that can handle being driven on the pavement as well. It can make the difference between sliding sideways down the road until you bury yourself in drifts past your hood and getting to your destination safely. Bald tires are also always an issue you want to address as soon as possible. Use all-terrain radials with plenty of tread when you're driving in dangerous winter climates.
Take for example a good dedicated mud tire. Said tire can perform great in mud, light dirt, and rocky terrain, but can suffer excessive wear and noisy performance on the highway. A big reason why is because what makes a mud tire great is a soft sidewall. This contrast makes it horrible on the highway where it leads to a bogged down feel in acceleration and poor handling due to sidewall flexing. In addition, the large knobby aggressive tread pattern that contributes to ideal traction on the trail could be problematic on the highway during the rain.
Overall, a tire like the Goodyear Duratrac or BFGoodrich K02, do a great job of maintaining a reasonable balance between the dueling environments. Firm but pliable sidewalls offer great highway performance and when deflated offer very pliable traction on the trail. The tread pattern still offers a good amount of traction, while on the trail, but not too aggressive to cause noise or issues with the rain while on the highway.
Good compromise between on and off-road
Low noise levels
More tread-life than typical mud tires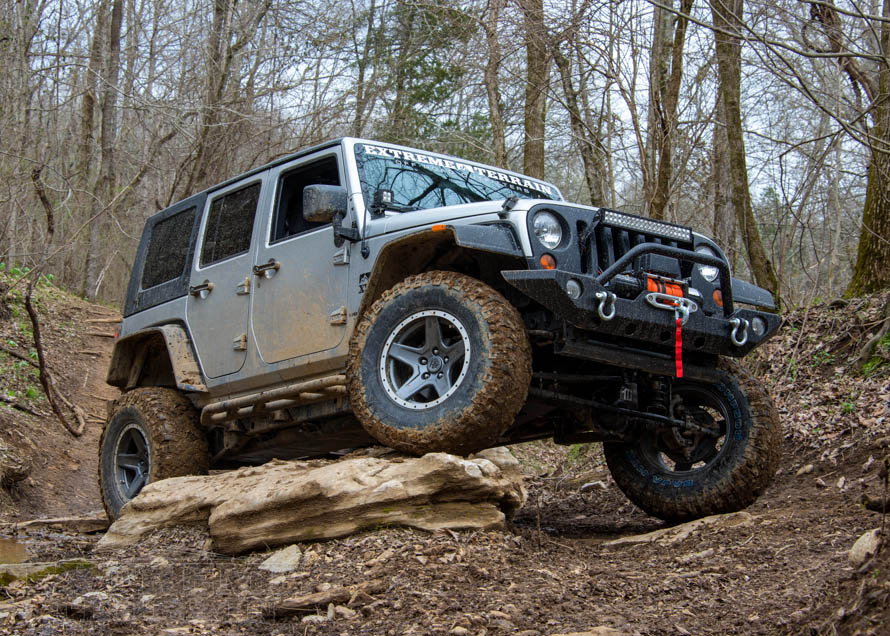 For the Rock Crawling Rigs
When it comes to rock crawling, you want good flex, big side lugs, and aired down tires. When you air down tires you are increasing the contact area and allowing them to conform to the surface you are driving over. This provides a great increase to your traction, especially when combined with large side lugs allowing for some rather surprising rock crawling abilities. Larger tires will provide more ground clearance but will require larger lift kits to accept them and can reduce flex depending on the Jeep's tire size and lift height. In addition, larger tires will put a larger strain on the Wrangler's drivetrain, may require re-gearing, and possibly an axle swap to handle large heavy tires.
On rocks you're not only going to be bumping up and down, but you'll also need to be able to swing from side to side without any fender rubbing. A good all-terrain tread or mud tread allows for plenty of grip without tearing up the trail. Go with something with plenty of grab like the Baja Claw or BFG A/T KO tires if you're concerned about fender clearance.
One thing about larger, heavier tires though is the braking distance is usually longer. You can offset this by upgrading your brake discs and pads somewhat, but you are still going to have to adjust your driving for the longer braking distance. Another thing you'll notice is heavy duty tires are noisier on the highway than street tires, but for the off-road experience, they can't be beat.